Founded in 1962 by  Glen Bell, Taco Bell is one of the most famous American-based fast food restaurant chains available across different destinations of the world. Taco Bell is popular for serving Mexican food items, including tacos, nachos, quesadillas, and burritos to name a few. Apart from the above, Taco Bell Mexican Pizza is one of the favorite food items loved by every customer. 
In fact, it was one of the main and best-selling Mexican-inspired items on their menu till 2020. However, it was in the same year that the company took the tough decision to remove Mexican pizza from its menu. 
Not selling Mexican Pizza came as a big disappointment to many pizzas lovers. However, the saying, nothing is certain but death and taxes perfectly fits here. It was on September 15, 2022, when Mexican pizza returned permanently to the restaurants menu. There is a lot more than that.
Keep reading the blog to know all about Taco Bell Mexican Pizza. 
What Happened To Taco Bell Mexican Pizza?
Taco Bell Mexican Pizza was one of the staple food items on the menu since 1985 when the pizza was first introduced as Pizzazz Pizza.
However, it was in the year 2020 when Taco Bell made an announcement of removing its Mexican Pizza from the menu. The news came like a bolt from blue for many pizza lovers. They were disappointed and upset about this decision of the restaurant. They even expressed their anger and grievances on various social media platforms. In fact, you will be surprised to know that the Change.org petition was made to bring back the Mexican Pizza on Taco Bells menu.
There were around 170,000 signatures on the petition. It was in September 2022, when Taco Bell paid heed to peoples requests and brought Mexican Pizza back and this time it is permanently back on the menu. 
Why Did Taco Bell Remove Mexican Pizza From Its Menu?
It was in the year 2020 when the COVID pandemic hit the entire world and most countries experienced complete lockdown. The pandemic turned the world upside down. It affected every industry from retail to travel and airline. And restaurants and food businesses were no exceptions. At the peak of COVID lockdowns, Taco Bell decided to stop selling Mexican Pizza due to the shortage of ingredients.
The company was facing supply-chain issues due to which it was difficult to source ingredients for pizza. Therefore, it decided to remove the item from its menu.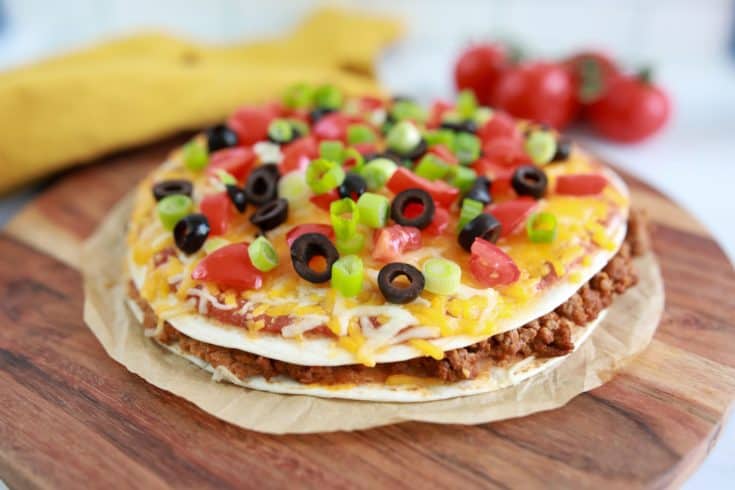 What's In Taco Bell Mexican Pizza?
Introduced as Pizzazz Pizza in 1985, the delicious and mouth-watering Mexican Pizza consists of 2 crispy flour shells that are layered with pizza sauce, beans, seasoned beef, tomatoes, and melted cheese. 
For vegetarians, you can enjoy vegetarian pizza without beef.
Items To Try Other Than Taco Bell Mexican Pizza
Some of the items to try other than Taco Bells Mexican Pizza are
Taco Bell is mainly known for selling a variety of tacos. Tacos are one of the highest-selling items. It contains a variety of ingredients from cheese to toppings, and sauces to become a star dish. 
The soft tacos contain a warm tortilla served with chicken & sauce. There are vegetarian options available too.
Chicken Quesadilla is a real treat for non-veg lovers. It is a complete meal made up of flour tortilla served with some grilled chicken with a good portion of the melted cheese and creamy jalapeño sauce.
Nacho Fries are something you should not miss when visiting or ordering from Taco bell. The crispy, delicious, flavorful fries are served with a cheese dip that makes it more tempting.
If you call yourself a true foodie, then you should not skip having 7 Layer Burrito. This Tex-Mex cuisine is layered with cheese or salsa-topped burritos.
Reasonable price, delicious taste, and stomach-filling dish make the 7-Layer Burrito an instant crowd favorite. You can customize it as per your taste and requirements. You can add beans, lettuce, guacamole, cheese, and tomatoes. 
Cheesy Double Decker Taco
The Cheesy Double Decker Tacos is a must-try dish for vegetarians. It consists of a soft tortilla wrapped around a properly-baked, crunchy taco shell layered with lettuce, cream, salsa, avocado, and cheese.
Interesting Facts About Taco Bell
Though Taco Bell is popular for its delicious and reasonable Mexcian food items, there is a lot more about this well-known food chain than you may not know.
Some of the interesting facts about Taco Bell that may blow your mind are
Glen Bell, the founder of the Taco Bell chain, started out selling hot dogs and hamburgers. 

Glen Bell opened his first Mexican-inspired restaurant, Taco Tia in San Bernardino, California, in 1954. It was on March 21, 1962, when he opened his first Taco Bell restaurant in Downey, California.

Crispy crunchy Nacho Fries served with cheese sauce are one of their best-selling food items.

As per the reports, Taco Bell was the first restaurant chain to hire female managers.
Thats all about Taco Bell Mexican Pizza, the best dishes to try in Taco Bell, and of course interesting facts about this popular food chain. We hope you like the article. For more updates and facts, stay connected with us. We try to provide the best information to our audience. 
Tags: 7 Layer BurritoNacho FriesSoft TacosTaco Bell Mexican Pizza