McDonald's is known for Happy Meals, which are a big part of childhood memories. They have added a new feature to the Happy Meal: Squishmallows. Squishmallows are cute plush toys that Jazwares has partnered with McDonald's to include in Happy Meals all over the country. With their fun designs and interactive features, Squishmallows are sure to make kids happy.
Exclusive Squishmallows Delight
The Squishmallows you get in a McDonald's Happy Meal are not ordinary plush toys. There are 24 different designs to collect, each with its own cute surprise. McDonald's locations that are a part of this promotion will have a selection of 10 to 12 different Squishmallow designs. This makes it even more fun for kids to collect them all.
Squishmallows come in many shapes, colors, and patterns. They have cute animals and silly characters that kids will love. There are kittens, puppies, unicorns, and even dinosaurs! No matter what a child likes, there is a Squishmallow that they will enjoy.
Squishmallows are soft and cuddly, making them perfect companions for kids. They are great for imaginative play and are perfect for tea parties or adventure buddies. Children love to keep Squishmallows close by, and they quickly become treasured friends.
Interactive Fun with Themed Digital Playlists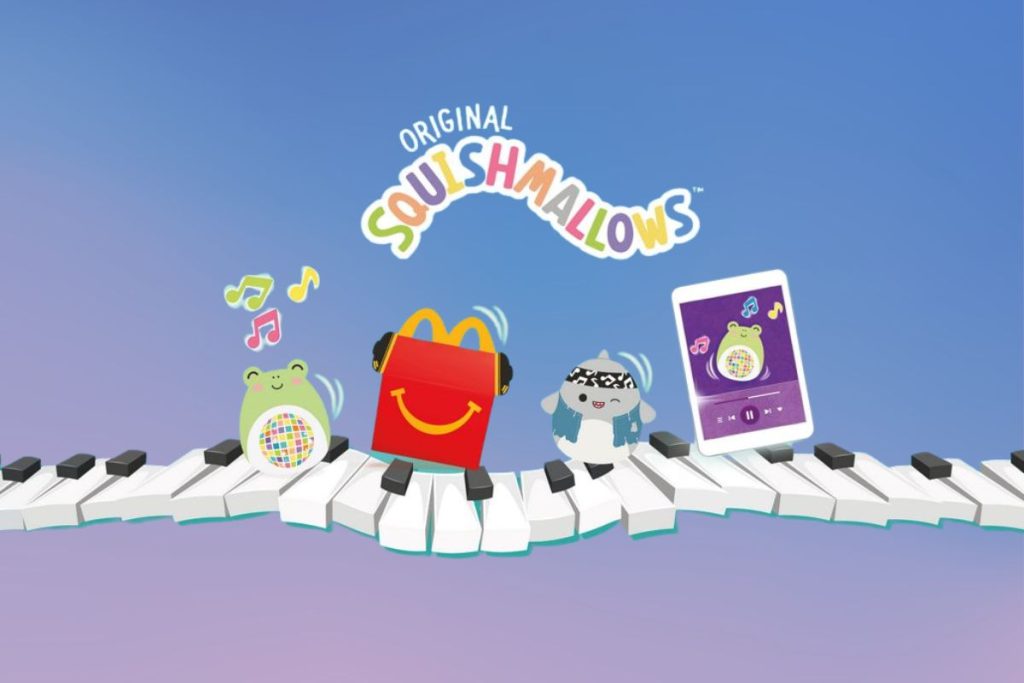 McDonald's has added something fun to the Squishmallow Happy Meal experience: themed digital playlists! These playlists aren't just regular music that plays in the background. They are special playlists that match each Squishmallow's personality.
You can access the playlists by scanning a QR code on your smart device. Each playlist takes you on a musical trip that matches your Squishmallow's traits. This makes playtime even more exciting!
The playlists add a new level of fun to the Squishmallows McDonalds Happy Meal. Kids can now use their smart devices to access special music that matches their Squishmallow. The music becomes part of their imaginative playtime, creating a fun and creative experience that brings joy.
Elevating the Mcdonald's Happy Meal Brand
McDonald's and Squishmallows working together is a big deal. It's not just about having cute toys in Happy Meals. It's a big plan that shows how McDonald's is always trying to make Happy Meals better and more special for kids and families.
McDonald's has included Squishmallows and playlists to make the Happy Meal experience even more fun. They did this because they know what kids like and what they are interested in. McDonald's wants kids to have a great time when they get a Happy Meal!
Having Squishmallows McDonalds Happy Meal adds a special feeling to mealtime. Kids can play with a fun toy that makes them smile. It's not just about eating yummy food, it's also about the experience of playtime and fun. The Squishmallows are soft and comforting and add a happy moment to the day!
Release Date and Availability
Soon, McDonald's will sell Squishmallow Happy Meals all across the country, making kids and collectors very happy! The release date is in late 2023, but people can watch for announcements at their local McDonald's. Families are excited and can't wait to get their hands on these adorable Squishmallows!
The Excitement Continues
McDonald's has added Squishmallows to Happy Meals, but that's not the only thing they're doing! They also have a "Grimace Birthday Meal and Shake." It's a special meal for a limited time that is inspired by Grimace, a fun character in the McDonald's world. There are two choices: a Big Mac or 10-piece Chicken McNuggets, along with a medium fry and a purple shake made just for this special meal. McDonald's always has unique and exciting things for people to try!
Final Thoughts
McDonald's is getting ready to sell Squishmallows in Happy Meals all across the country. Families can look forward to a really special and fun experience. The Squishmallows are cute and soft, and the playlists are really cool, too. Kids will remember this experience for a long time! Keep an eye out for when they go on sale, and get ready for a happy adventure with Squishmallows and McDonald's Happy Meals!
Tags: collectorsMcDonald's Happy MealSquishmallow Happy Meal