Want to see the dawn of the year 2020 with a romantic dinner date at the white-sanded sea coast? What can be a better place than Vietnam to surprise your lady with a cozy evening in spectacular scenery? Even if you're planning for your honeymoon, Vietnam is the best choice to immerse yourself in the tranquillity of nature. The vibrant culture, soothing surroundings, thrilling breeze, and oh-so-romantic sunset- whole universe becomes cupid of your brewing love story. So why resist from being in such a romantic place? Steal a spell of 5 to 7 days from your busy life and escape to the paradise of lovers- Vietnam. I have listed 3 best romantic activities here, to get involved with your love. Scroll down and check it out. These things will strengthen the bond between you two. So, know it and make the most out of your We-time.
Walk hand-in-hand at the white-sanded Sao beach of Phu Quoc Island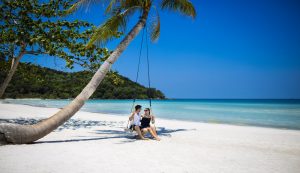 Imagine, taking a stroll through a picturesque beach holding her hand… while the greenery is welcoming you with a whole heart… sparkling blue water tingling your feet… she is giggling again and again… How beautiful she is!
Seems like a perfect dream, right? Well, you can turn it into reality now! Visit the beautiful Sao beach of Phu Quoc Island and find the sanity of your relationship. You can do a lot of things together in the Sao beach- have the delicious seafood, get involved in water sports, or just sip your favourite cocktail and feel the aura of setting sun together. The sky is pink, in reality; and you'll feel it!
Pray together at the beautiful Ngoc Son Temple in Hanoi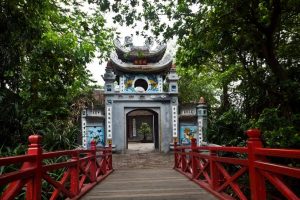 Why not pray for blessings, especially when you're going to enter into a whole new life? Well, you don't really have to be the believer; still, you can opt for taking a stroll through this place. You'll love the raw essence of Vietnam, and the rich history will surely leave you startled. Why miss the opportunity of hearing the untold story, carved on the wall of Ngoc Son Temple?
Time Travel for some moments with your beloved and experience something unique- Just trip to Hanoi.
Snorkel the crystal clear waters of Con Dao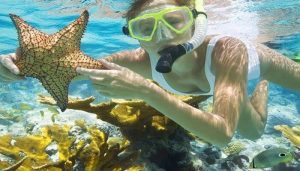 Why not please your adventurous soul, especially when so many tranquil water bodies surround you? Yes, if both of you have the daring bone, just opt for snorkelling in the Con Dao island. Being voted as one of the most mysterious islands, Con Dao won't leave any stone unturned to feed the adventure junkie hidden in you. The turquoise water, white and golden beaches, different marine life- all make this remote location an ideal spot for scuba diving, snorkelling or kitesurfing. Winter may give you a chilli thrill to try such stunts. So the best time to embark into these water activities is in Summer. Got your plan ready for the next Summer or up for a thrilling experience, this winter?
Here go the must-do romantic things with your love while in Vietnam. Book affordable Vietnam honeymoon packages from Pickyourtrail and rewrite your own love story amidst soothing nature. Pack your bags now!
Tags: honeymoon travelthings to do in vietnamtravelvietnamvietnam honeymoon