As we know, there can be different reasons for creating a Facebook page. You may have encountered someone who created a Facebook fan page, and now you are not interested in them. You must have created a Facebook page to promote any business, and now you have to shut down in order to continue that business or you would not think it appropriate to market your product to Facebook.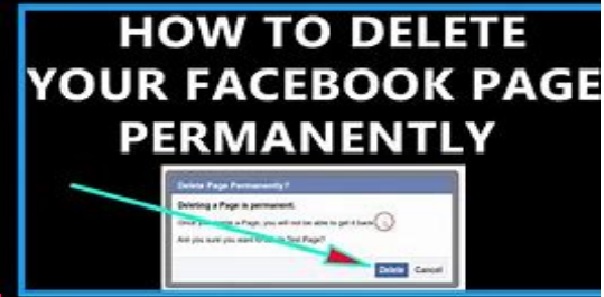 Whatever the reason, you can always delete the Facebook page by following the simple steps listed below. But remember that to delete a Facebook page, you must be the administrator of that page. If you intend not only to delete the Facebook fan page, but also to get rid of the Facebook account completely; You can then get the update process to delete the Facebook account in the blog?
Using Facebooks mobile application, delete the page by following the steps below
Open Facebook application: First of all open the Facebook application on your smartphone. To open Facebook, open the list of applications, find and tap on the Facebook icon.
Login: This is your smartphone, it is clear that you are already logged into Facebook. If you are not logged in, log in with the username and password of that account, the page you want to delete is associated.
Open Facebook Fan Page: Once you log in, tap on the menu icon towards the top of the page. The menu icons are three horizontal lines located to the right of the notification icon. As soon as you tap on the menu icon, a drop-down list will appear. In the drop-down list, you will see a list of pages associated with your account. Select the page you want to remove from the middle of the page.
Settings: Just to the right, of search navigation panel tap on the menu option and a list of option will pop up. From among the menu tap on Edit Settings.
Go to General: In the Edit Settings page tap on General option at the top.
Delete Facebook page: In this edit page, swipe the bottom of the page. Tap the option of this page by going to delete it. Now your Facebook page will go into the deletion process.
Delete Facebook Page Easily Using Facebook Website
Open Facebook: Log in to Facebook in any Internet browser of your choice.
Log in to Facebook: When logging into Facebook, you must enter the username and password with which the Facebook page you want to delete is associated with.
Open Facebook page: After logging into Facebook, you need to click on the small reverse triangle to the right of the privacy shortcut icon. Will you easily see all the Facebook pages associated with your Facebook account? drop-down list. Now you can click on the Facebook page you want to delete.
Settings: Click on Settings at the top of the page, just to the left of the Help menu.
Delete Facebook page: In the Settings page, at the bottom of the page, you will see an option such as the Delete page. Click to delete your page. And now your Facebook page will go into the process of permanent deletion. once you are in the process of being removed using your Facebook application, it will not be accessible to anyone. 
However, in any case, you want to restore the Facebook page doing so within a few days. After a few days, Facebook will ask you again whether you want to delete the Facebook page. Just click yes then your Facebook page will eventually be permanently deleted. If you may face any problem while doing this, then you can easily find a solution to your problem by contacting our Facebook support number.
How to deactivate your Facebook account?
It is very easy. You may be wondering why I am telling you such a simple thing. If you know how to deactivate your Facebook account, this is great. But some people are not aware of it. Here are some steps to deactivate your Facebook account:
First, go to Settings.

Then click on General in the left pane. Earlier the option to deactivate the Facebook account was on the security page.

Go to the top of the screen and click on Manage Account. Then click on it to deactivate your account.
How to delete Facebook account permanently?
One thing most users want to know is how to permanently delete a Facebook account. For this, follow the steps given below:
Log into your Facebook account first.

Now go to this link, https://www.facebook.com/help/delete_account

Click Delete My Account.
I cannot proceed because I do not want to delete my Facebook account. 
Important things to consider before you close Facebook account
First, make sure that you have downloaded a copy of your Facebook data before deleting it permanently. That after you deactivate it, you will come to your Facebook account. But be careful, after deleting your Facebook account permanently you will not get a chance to change your mind. So take your decision very wisely.
Facebook will take 90 days to delete all your photos, videos, posts, likes, comments, and everything else. Facebook users will not be able to visit your profile during the deletion process. However, text messages, pictures sent to your friends will be at the end of them as they are also a part of their account. You can also ask them to delete their messages.
Tags: FaceBookFacebook Page