The saree is the country most loved the garment and every woman eagerly awaits the day she can pull out her most expensive saree and wear it. This iconic outfit has been worn by traditional Indian women since the beginning of our culture and there is barely anything else that can represent our culture the way that the saree does. 
It shows off woman feminism and grace as a floating silhouette. Women around the country choose this outfit not just as special event wear but also as daily wear and a formal option for the office.
One of the hardest parts of wearing the saree is trying to find the right saree blouse that will bring out your figure as well as make the saree look even better than it is.  
Apart from being very comfortable to wear for a long amount of time in difficult conditions, it should also be stylish enough to grab all eyes when you step into the room. To fulfill both these requirements we have devised a list of 9 stylish blouses that are keen to win votes and hearts.
Cold Shoulder Blouse Design
The fashion market was hit with the cold shoulder style trend a few years back, and it is still here and can even be seen in our traditional clothing such as the saree blouse and lehenga choli. 
This style just involves a stylish cutout at the top corner of the shoulder that leaves the skin exposed to give a fashionable look that has not been seen in any other saree blouse design. It can be the best option for a simple blouse if you do not want it to have heavy decorative work on it.
Noodle Strap Blouse Design
Having those thick and bulky shoulder straps can be an annoying thing and if you are not liking this you can opt for the trendy noodle straps that are simply thinner straps that are more comfortable as well as good looking compared to the old traditional styles.
 It is a modernized look that can match any saree type and is suitable casual wearing or event a public appearance at a party. 
Transparent Back Blouse Design
The presence of a netting or another transparent back material is enough to make all the other guests gasp in awe of your saree blouse. The transparent blouse back is one meant to be worn for brave women who don't mind showing off a bit of skin in the name of fashion. 
The amount of transparent material can easily be altered and tailored to your personal preferences but at the end of the day, the choice is all yours. It is a way to get guaranteed attention.
Halter Neck Blouse Design
Many Bollywood celebrities have taken a firm liking to this type of saree blouse. It is a pleasant sight that involves the saree closure that reaches behind the neck to give the famous halter neck design. 
It is indeed a stylish look that is meant to make a fashion statement among all other women. You will be the talk of the town, and we mean this in a good way. People will be giving you positive comments throughout the night.
Designer Blouse Design
Designer garments are made with care to make sure that they offer the maximum amount of designs and decorations that will come at a cost. Embroidery, patchwork, stone detailing, and beaded borders are all guaranteed to be present on this saree blouse design and the combined use of more than one will make a masterpiece of a blouse. 
The blouse may even be more fancy and attractive than the saree itself, but this is the purpose of a designer saree blouse and you can even go all out and wear it with a designer saree to unlock its full potential.
High Collar Blouse Design
There was a time when the high neck fashion was the most commonly seen one. It is still being used by the fashion industry but with a few extra features to try to make it more attractive than all others. 
The addition of a collar makes a much more appealing outfit than any other type. It has a formal collar and high neck design, this makes it fit for professional purposes and also for cold weather.
Embroidery Netting Blouse Design
The combination of embroidery patterns on a netting background makes for an eye-opening sight that is not commonly worn on a regular basis but only for special occasions that are important enough for you to wear it. 
The usual patterns seen on netting fabric in skilled embroidery work are florals, ethnic patterns, and peacock images, other small decorations can be seen. When a mixture of colors is used it can make for a perfect-looking saree blouse.
Simple Metallic Blouse Design
Simple can be sophisticated, the use of the simply plain metallic gold or silver blouse has been widely used and the best advantage of it is that it will match any colored saree that you have, but be sure to avoid wearing a gold blouse with a gold saree and a silver blouse with a silver saree. 
With these blouses, you can opt for a fancy cut or regular cut and will not need to worry too much about the decorative elements as there is no need for any.
Traditional Themed Blouse Design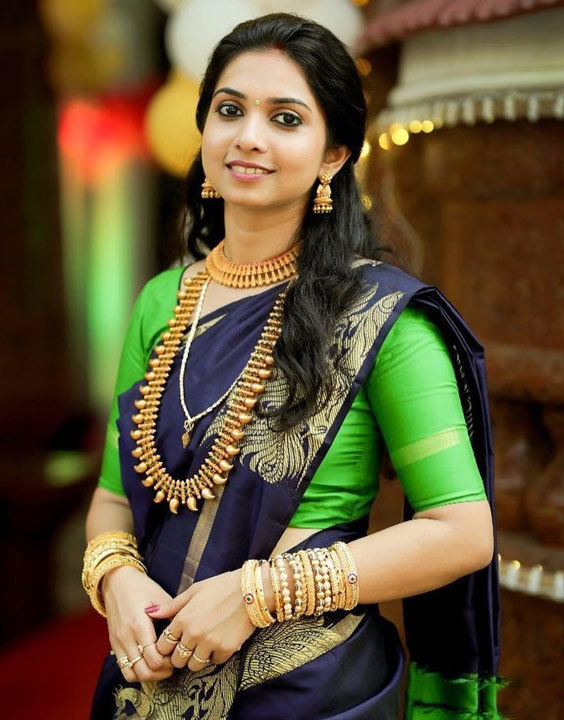 For women who want to keep to traditions, there is always the option to go for something that is more concerned with showing your heritage. It may feature the regular cap sleeves or else you can opt for those 3/4 to long sleeves. 
Do a minimal decorating feature that does not appear to be overdone and stay clear off any designer work on the saree blouse. Pair it with a classic saree blouse that has typically loved color pairs, red and green, red and gold, or any other matching look.
if you love these designer sarees then you buy wholesale sarees online to save your time and money.