The December birthstone, Turquoise, is known for its refreshing ocean colors and symbolism. It represents tranquility, protection, good fortune, and hope. It has been there since 5000 BC when it was mined in Persia. The beautiful gemstone has a black or brown spider-like web called a matrix. The gem is worn for its playful look and its excellent healing properties.
The gemstone is mined in Arizona and Nevada of the U.S.A. and China. The Navajo and the Zuni people use it in amulets, pendants, talismans, rings, and bracelets. Big chunky turquoise necklaces are also popular that can change the whole look of your evening dress. If you are thinking of buying turquoise jewelry and want to know how you can style it, keep reading this article. I have listed some ways here in which you can style this gemstone accessory.
Reserve Gemstone Jewelry for Work Outfits: 
While picking office jewelry, you have to take care that it has to be subtle and minimal. The jewelry should be such that it does not get highlighted in the whole look but compliments the outfit. Turquoise will give you that subtle and feminine look. Turquoise earrings look minimal and can be paired with a turquoise pendant. You can also go for turquoise studs.
Turquoise for Everyday Jewelry:
The gemstone works best with casual outfits. It is classy and is loved for its soothing color. It has that simplicity with a modern touch that is the best suitable for everyday accessories. If you are coordinating Turquoise with other gemstones, make sure they complement each other.
Reserving the Jewelry for Special Occasions: 
Turquoise provides the required pop of color for a vibrant party look. Bold and playful jewelry is best for evening parties. The refreshing color of this gemstone looks best against a black dress. Adding diamonds to this gemstone jewelry will give it that extra sparkle. Wearing Turquoise stone rings will always protect the person from accidents and safeguard the wearer while traveling late at night or from unsafe areas. You can choose a cocktail turquoise ring or earrings to grab your attention. It will provide you with the statement look that will garner you so many compliments.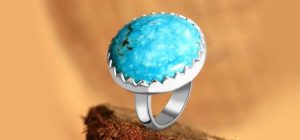 You can go for turquoise bracelets for a chic and boho look. The gemstone in the bracelet creates a perfect boho vibe. Either wear the bracelet individually or other stacking bracelets. Turquoise looks gorgeous in silver. You can find a wide variety of turquoise bracelets at Rananjay Exports. 
Things to Keep in Before Buying This Gemstone Jewelry:
Color: The gemstone comes in various shades of blue and green. It comes in light blue, blue, deep blue, green, and blue-green. Although the saturated blue color is the most valued shade, you can choose what works best for you.
Cut: Turquoise is most cut into cabochons, chips, and ovals. Turquoise bead necklaces and bracelets are also famous. It is also sometimes used in its raw form.
Clarity: The gemstone is generally opaque, while its translucent variety is rare. It has a matte luster and inclusions of brown or black color that resemble a web. Although the ones with no inclusions are valued more, Turquoise, with inclusions, is also in demand for their attractive designs.
What to Expect After Wearing This Gemstone?
Turquoise is regarded as a mystical stone that can cure sickness. It is believed to bring good luck and power to the wearer. It will lift your spirits that you can gain a sense of self-worth. Wearing this gemstone will also let you get rid of mood swings and anxiety so that you feel clear-headed.
The gemstone boosts your confidence and lets you overcome the fear of public speaking. It will fill you with serenity, positive thinking, empathy, creativity, and happiness. It will work on your heart chakra, so you can give and receive love. The purification stone will eliminate the harmful effects of electromagnetic smog and pollutants on you. It will keep you away from the negative energies.
How to Take Care of the Gemstone?
You just need soapy water and a soft-bristle brush to clean Turquoise. Make sure you keep it away from harsh cleaners. While storing turquoise jewelry, keep it separate from other jewelry pieces in a cloth-lined jewelry box.
Take out gemstone jewelry while exercising or cleaning to prevent possible scratches. It is advised that you keep charging the gemstones from time to time. Keep Turquoise under the moonlight for a night so that the stone is ready to heal you with its metaphysical benefits.
Where to Buy Turquoise Jewelry?
The blue-colored gemstone has been popular since ancient times among different cultures. And if you are also planning to buy gemstone jewelry, you should check for a site that sells genuine gemstones. I suggest you check out Rananjay Exports. They are the best in the market when it comes to variety in designs in authentic gemstone jewelry. They deal in wholesale silver gemstone jewelry in 925 sterling silver.
Tags: gemstonegemstone jewelryTurquoise JewelryTurquoise RingWholesale Turquoise Jewelry