Either you are a modern minimalist or live in a small apartment. You might need a small bed, which would ideally serve its purpose. A major benefit of a smaller bed is, it makes your room airy and spacious, as your room would be less crowded with furniture which is too large hence making your room confined. Bed factory Dewsbury would help you in choosing and selecting the finest bed for your apartment. The high-quality material is accessible in a wide-ranging design and patterns. One is free to choose from a plain bed to a sophisticated or even the most decorative one on a friendly budget.
Types of Bed for a Very Small Space
There are several premium beds for your small space.
1. Murphy Bed with Sofa and Shelve
This Murphy bed comes with an exclusive set of shelves, storage cabinets, and sofas, which is a hand-pick if you are looking for a prevailing minimalist design all-in-one. If you want to expand space in your small studio apartment, then an all-in-one Murphy bed would be your best investment. All-in-one Murphy bed could be used for various purposes such as sleeping, eating, working, watching movies, or even simply relaxing on it. When you are ready to sleep, simply pull the Murphy bed over the love seat when you want to sleep, and enjoy lounging on your love seat during the daytime, so you got an all-in-one superlative deal. 
Whats best about this deal is you can enjoy this magical Murphy bed is budget-friendly, a worthwhile and authentic international company. If you are a person with a smaller space, then enjoy an all-in-one product, with a lucrative option of a complete set of desks, a closet, four storage combinations, and five shelves that are quite accessible. 
2. Belham Living Casey Daybed
Belham living Casey daybed is the modern minimalism investment. Daybed with a double as sofa option when you are not drifting off to dreamland, this day bed would serve both your daytime as well as nighttime purposes. Moreover, its sure to complement any modern design concept as the Belham Living Casey Daybed from Hayneedle is versatile as it is sleek. To get the most out of Belham daybed and for fitting your individual needs choose a mattress that consists of high-quality material with ease. 
3. Colquitt Murphy Bed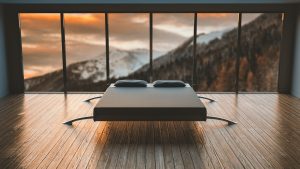 Colquitt Murphy bed is a streamlined choice for a small studio apartment, as you can simply fold up and blend them in the background. Get Colquitt Murphy Bed from Wayfair if you are looking for an all-in-one comfy-cozy space-saving bed option (You wouldnt regret it!). Its something youll have for life, as this option is more expensive than a conventional daybed. Moreover, this bed will serve as the perfect space-saving guest bed when you upgrade to a larger living space.
4. Atticus Daybed
Atticus daybed is a perfect and most comfortable sleep solution. This daybed is a fan favorite for those who cherish casual, creative style that wont sacrifice comfort, a natural style with clean lines, slim wooden legs, and a stylish rattan frame. Subsequently, its sublime natural-tinted French cane sides and back are ivory linen cushions, which makes for a comfortable soft feel while its ash wood frame draws attention. 
Atticus daybeds major advantage is it does not require time to assemble the daybed. It gives off a nice warm feeling to ones living room with more spaciousness. 
5. Zinus Eli Twin Daybed and Trundle Frame Set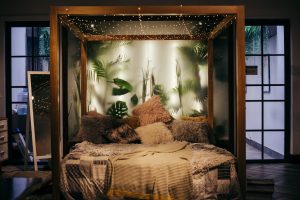 Zinus Eli twin daybed and trundle set is an aesthetic compromise if you dont want to convert your daybed into an actual bed. You can pull out the bottom to sleep on and decorate the top of the daybed as a sofa. The trundle bed set is manufactured from premium steel for the best support, and the sophisticated wood and metal frame will complement any décor.
6. LEISUIT Rollaway Guest Bed Cot Fold Out Bed
You would not have to put bed décor at stake with Leisuit rollaway guest bed cot fold-out bed, as it comes with the purpose of both saving space and giving out the best style one has to offer, which is budget-friendly. Subsequently, it is known for its durability and high comfort level.  
What is the Best Type of Bed for a Very Small Space?
The best type of bed for small spaces is LEISUIT Rollaway Guest Bed Cot Fold Out Bed as it provides a wide-ranging option and is all-encompassing in itself. Leisuit rollaway guest bed is budget-friendly with a highly durable and comfortable level. You would have an option to experience both the style and spaciousness, which is an end goal of every modern minimalist. Undoubtedly Leisuit would suit many people with a studio apartment. However, some might like to go for other best type of bed options, which begins from Murphy bed sofa and shelves, Belham living Casey daybed, Colquitt murphy bed, Atticus daybed to Zinus Eli Twin Daybed and Trundle Frame Set.
Final Thoughts
If you are claustrophobic with a studio apartment and looking for a small type of bed with a luxurious package within a budget-friendly and space-saving décor then LEISUIT Rollaway Guest Bed Cot Fold Out Bed would be an option that you need to consider. 
Tags: Bed factory DewsburybedsBest Bed for small roompremium beds