Come on! Lets play a game. It is called choosing your favorite color. Now if you were to pick a shirt that is decent looking, easy on pockets, and could be paired with countless pairs of footwear and jackets, but wouldnt look a million years old after being machine washed, what would you pick? Difficult? We agree to disagree.
Now we want you to close your eyes. Take a deep breath. Now just imagine a color that is innocent, pure, decent, and simple - all wrapped in one.
Yes. Its White!
Curious about some amazing facts about White?
Did you know? In Western cultures, the color white is often linked with marriages, hospitals, patrons, and angels and is oftentimes used to express a sense of chastity, cleanliness, and calm.
Whereas in many of the Eastern Countries, white is symbolically associated with death and grief. Its often a hue used in mourning and other burial rituals.
According to color psychology, the color white is often characterized as frigid, bland, and sterile. Rooms that are painted white can seem spacious, but empty and surly. Hospitals and hospital workers tend to use white to build a sense of sterility. Some of the positive connotations of white include cleanliness, freshness, and simplicity.
The color white looks like a blank slate, signifying a fresh start. Whereas on the other side, white can appear stark, cold, and isolated. Now before we go too deep into color psychology, lets start talking about linen.
Hot summers call for a crisp white linen shirt. White shirts and blouses can, at times, look a tad formal, which is precise if you are someone who works in the office.
One of the ways of making a white shirt look less formal is by picking up a white linen shirt. Not only is that perfect for summers as its breezy to wear, but its a shirt that looks effortless and not too uptight.
This is why we agreed on going out of our way to create a list of white linen shirts for you, from our premium brands!
White Linen Shirts by Marks and Spencer.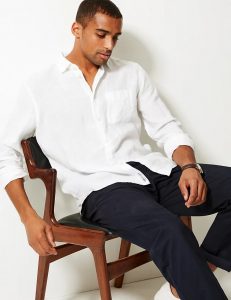 Woven with 100% linen, this white linen shirt is woven with a natural and breathable fabric thats both comfy and manageable to launder. Available in fresh formal fit with a button through semblance, it features a breast pocket, for everyday casual wear. Available in a sweeping range of shades, appropriate for matching with a wide range of suits and occasions.
Men-Premium Linen Long Sleeve Shirt by Uniqlo.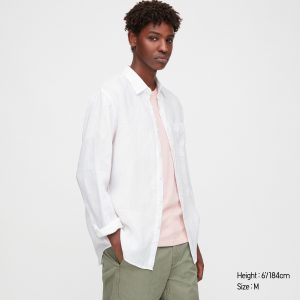 Curated with 100 % linen, this piece is longer than any conventional linen! Also, the fiber feels supple with a shy sheen. With slightly loose around the shoulders, the stark bright linen drapes beautifully, and the body is thoughtfully designed to appear sleek around the waist.
Levis White Linen Cotton Shirt.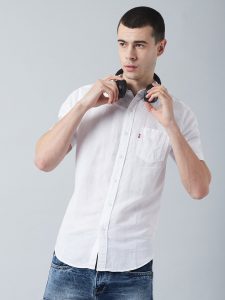 This eye-grabber crisp shirt is machine washable up to 30 degrees, featuring a slim fit collar with full sleeves. Woven with a blend of 65% linen threads and 35% cotton.
White linen Shirt by The House of Rare.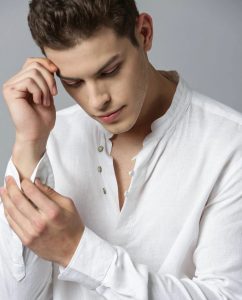 This is a contemporary casual white shirt and can be worn from office to after meeting evening get-together. The Best part? This shirt is well-liked by both father and son age groups. Featuring a loop buttonhole with half placket intricate details, this white linen shirt is good to go for any day out!
White Slim Fit Solid Linen Casual Shirt by Mast and Harbour.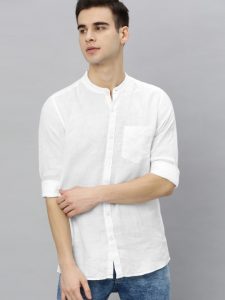 With a mandarin collar with long white sleeves and button placket, along with a curved hem and white patch pocket, this sophisticated and intricate slim fit is particularly woven with 100 percent machine washable linen.
White Linen Shirt by Louis Philip.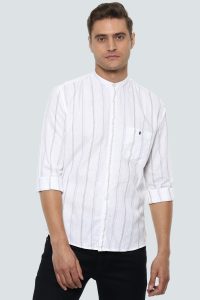 Designed for comfort, solace, and style, this white solid slim fit shirt from Louis Philippe Jeans by House of Louis Philippe is sure to render you a sartorial edge.
White Linen Shirt of Linen Club.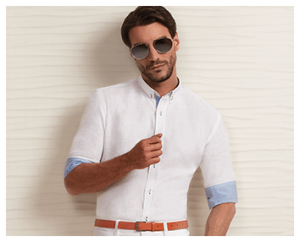 Add a spunky edge to your style statement with this crisp white linen shirt by Linen Club. Crafted with the solace of linen fabric, it is truly the best option for all your style fixes! Team it with a light pair of jeans and sneakers to complete the look.
White Linen Shirt By Tata CLiQ Luxury.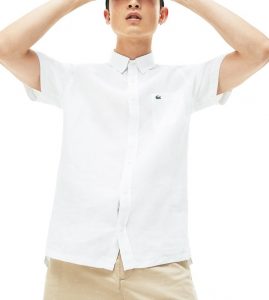 It seems like Tata CLiQ Luxury has introduced finer linen from Baird McNutt resulting in softer shirts and also added mother-of-pearl buttons. This white linen shirt features a button-down collar with signature 6-pleat shirring, and the barrel cuffs emphasize the Brooks Brothers dedication to the very well-made sport. A center-back pleat and a front chest pocket are a massive plus.
CONCLUSION
Being a breathable material with impeccable absorption qualities, it is a versatile yet staple fabric that doesnt lag in terms of rendering sultry soft looks. After all, a man becomes a legit gentleman when he wraps himself up in linen.
A white linen shirt signifies modesty and simplicity while being formal and impactful. A spectacular piece that has the strength to add grace to your all-around attitude and personality.
There are multiple brands across the internet, with over a hundred varied white linen shirting options!
Whereas at Linen Club, we ensure to let you establish your very own style affidavit, every moment, you ever think of stepping out. Especially this summer.
Our plethora of collections renders white combinations to last a lifetime! We genuinely intend to serve you the best of all fabrics! Looking for your perfect kind of linen? Visit our website to get your fix. Simply log on to www.linenclub.com.
Also Read: 9 Essential T-Shirts for Every Boy to Enter New Year
Tags: linen shirtsmens shirtsshirts for menwhite linen shirtwhite shirts