When it comes to dark bathroom ideas, it is not only the paint shades that will give a moody and modish vibe. The natural stone-like beautiful basalt, elegant granite, or opulent noir marble will also darken tone along with taking things up a notch, while raw textures and polished concrete will offer an industrial or earthy feel. Also, the dark ceilings produce the cozy and warming effect along with breaking up the color with distinctive surfaces, so that it does not feel too imposing. Warm timber or patterned floor tiles will relieve the expanse of grey or black as well as lighten the look. 
For those who wish to experiment with the dark bathroom ideas and see the bathroom as the retreat as well as a chance at a few famous luxe pampering, black also lends a bit of serious metropolitan edge to the otherwise safe necessity. 
Have a look at these 8 dark bathroom ideas for your new house
Bathing and shower spaces
Clad your bath and shower space with dark stone or tiles for functionality, or it can also be dark concrete for ensuring the long-lasting factor. While most of the showers get decorated in minimalist and laconic ways, your bathing space will be an exceptional focal point in the bathroom. So, if this is among your list of dark bathroom ideas, try out the stunning copper bathtubs in the vintage style for making a statement, or you can also go for the black stone bathtub for the relaxing spa feel.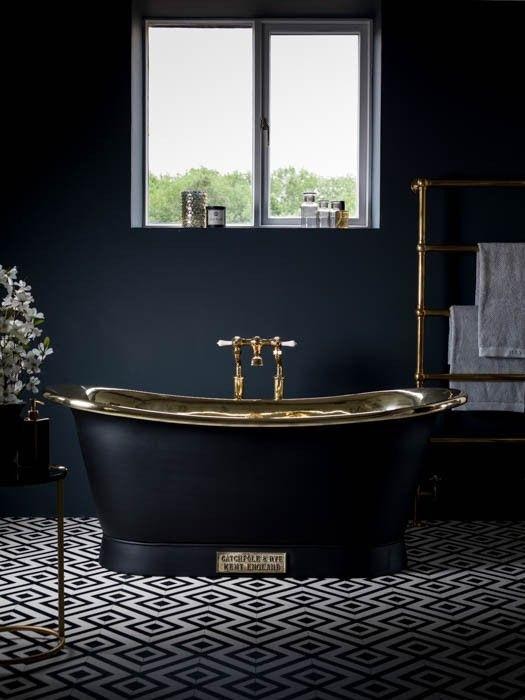 Try having a few windows or much light, or else the all-dark bathroom will look a lot smaller than it is actually. Put candles all around your bathtub for the relaxing touch and chic look. Since dark colors are often utilized for masculine spaces, in case you wish to have one too, this is the right option for you. 
Begin with your walls
Firstly, decide which material type will produce a grey backdrop for the dark bathroom. Besides painting your walls, other popular options are using dark themes in terms of marble selection, ceramic tile or porcelain tiles, or the grey sheets of glass. However, why must you focus on the walls?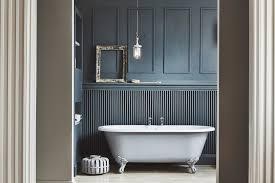 Besides taking up the most visual space in your bathroom, walls offer the terrific backdrop for other colors to pop off of. Never forget that while using a very dark color, it is inevitable for introducing great texture, like textured paint or wood walls, for creating shadows within the dark color. 
Sink space
Opt for your style as well as consider the same while decorating. You can choose brown, black, or dark grey stone or tiles for adding the textural look. Choosing concrete is also a good fit in case it is moody enough, as well as countertops and cabinets will add the refined touch. In case you can afford it, choose black marble countertops or even the walls and you will love them. The mirror can add style too to your space as well as even make it up in case it is a spectacular frame vintage or the huge minimal one.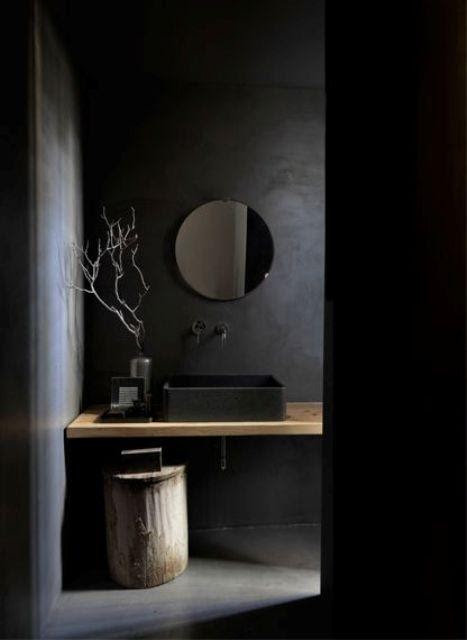 The dark spaces require extra light, so always remember, while decorating, utilize hidden lights or pendants in your mirror as well as underneath your drawers. Give a blend of dark color and wood to your best plumbing products such as you can try out the black sinks, Golden coated plumbing accessories, wooden stool, and counter which add texture, and black walls. 
Do not go way too dark
In a few cases, the dark-grey bathroom can make your space look dated and less elegant (such as the bar bathroom) as compared to grey mixed with another color. Give a thought to the color palette in the rest of the home. Is it cold or warm? In case the color palette is warmer, opt for a grey with the brownish/warm tint, and if it is cooler, select the grey which has softer hues.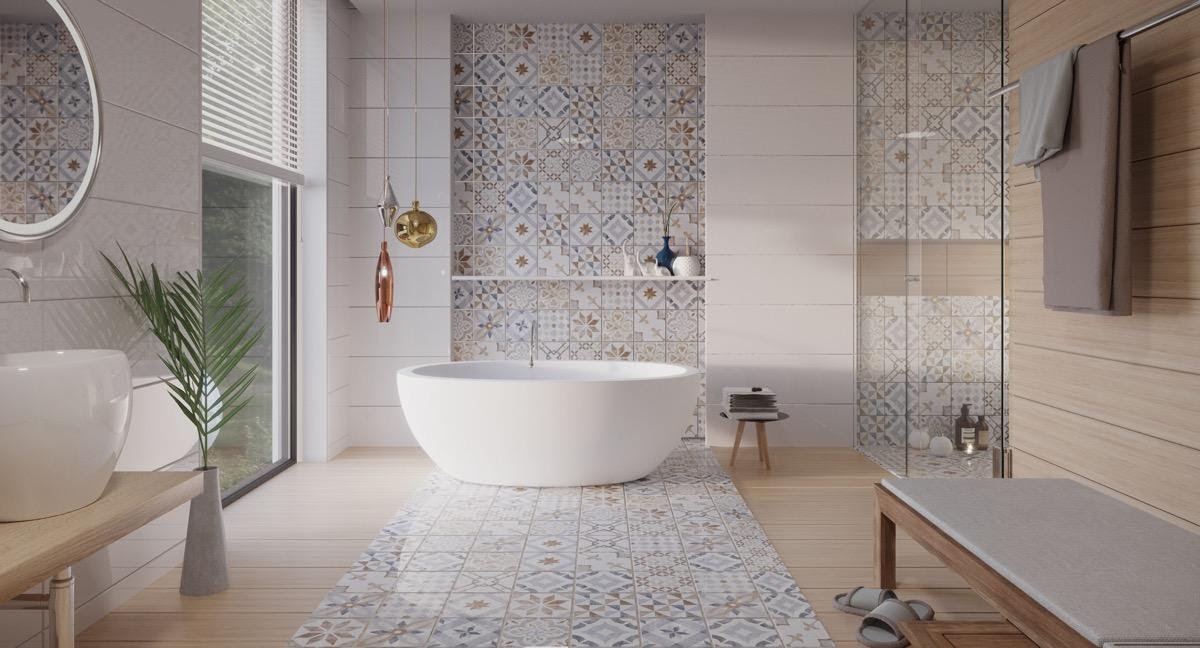 When it comes to bathroom renovation tips, do not forget that the surfaces other than the walls must display the intentionally distinctive grey. Pick another grey for, suppose, floating shelves, for bringing in more interest and character. 
Utilize reclaimed wood
Gone are those days when dark hues were only reserved for modern and contemporary designs as now with the country scheme, the decent dose of elegance and restfulness can be blended into your bathroom with calming shades of white and grey. As among the hottest trends for a bathroom makeover, using natural wood textures and accents for inclusion into the dark bathroom will give it an extraordinary look.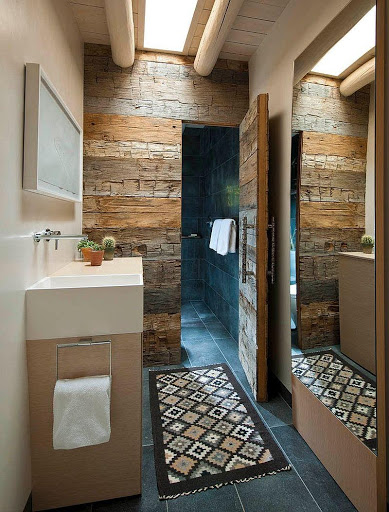 While paired with the dark walls, rustic timber can amazingly come to life. Do not be discouraged while sourcing the salvaged wood, even when it is damaged, it can generally be restored to former glory with the leftover marks and stretches adding to the character of the wood. 
Include contrast
A part of what makes your black bathroom extra dramatic is the contrast of other hues with dark surfaces. Thereby, incorporate some highlights of colors (like the sleek white) which are astonishingly noticeable against the black. While you go for a bathroom makeover, remember that the al-black one can look quite claustrophobic and gloomy. 
Your black bathroom is all about mastering light and reflection in the dark space. Keep the sinks, tub, and fixtures white for the contrast factor. As walls absorb light, you have to utilize white for almost the reverse mascara effect. 
Go creative and concrete
Concrete in the moody color can transform your bathroom since it forms a seamless, single surface as well as can be modeled into any particular shape. However concrete can also be timeless, tactile, and luxurious, which makes sure that it is the best choice for a smooth finish from the wall to the floor. In terms of dark themes, it is suggested that you make the concrete even more beautiful by adding the accent color such as lime green and shocking pink, etc.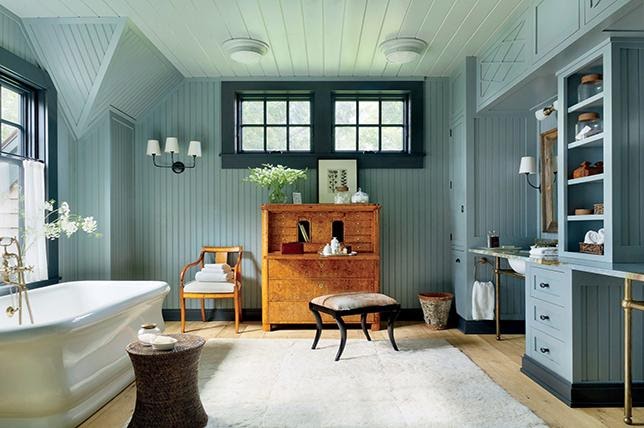 Choose marvelous marble
Marble is blessed with the gift of converting a space into a timeless design. Because boutique-design schemes are one of the hottest trends right now, it is recommended to go for a polished marble route for the dark bathroom. Polished marble is a perfect choice to create a glamorous grey bathroom. However if the budget does not quite stretch to the natural stone, choose stone veneers for walls and surfaces.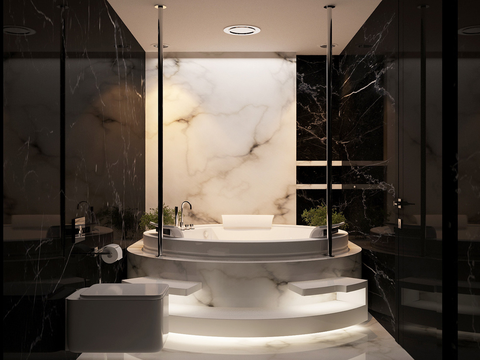 Conclusion:
One of the most valuable bathroom renovation tips is to stick to the white sanitary ware as it will produce a cool contrast against the subdued shades. Also, it will offer you additional flexibility and it is simple to modify your wall color around it in the long run. Likewise the painted freestanding bath, you can always re-spray and update in the new hue in case you wish to change the scheme without any fuss. Gone are those days when clinical white bathrooms were the favorite choice among people, as now from inky blues and pitch black to cool concrete and slate grey, dark side rules can result in blissful bathing. 
Tags: bathroom makeoverbatroom renovation tipsbest plumbing productsdark bathroom ideasdark themes