How to make a coffee table several DIY projects. In the current era, there are quite a few of us getting carried away by minimalist design. And is there a more symbolic representation of the latter than the famous coffee table? Whether it plays a central role as a piece of furniture in the living room or a secondary one – that of a service cabinet, the table is always there. The good news is that you can indeed make a coffee table that suits you instead of going out and buying one of that commercial furniture that often lacks character. This article will present you with lots of tutorials and project ideas that will help you give your living space a unique DIY flair. Let's roll up our sleeves!
The wooden reel table – a super easy to make recycled piece of furniture
It's tough to think of a less complicated project than the reel coffee table. No disassembly effort is required! Just a few minor touch-ups to embellish and customize the wood. Because it is evident to everyone that the shape of the drum is reminiscent of a table, we're talking about two flat surfaces joined by a wooden cylinder. So you have everything – around the base, legs, and a tray on top!
However, you can also think about adding casters. These will make your recycled furniture much more mobile while giving it an industrial look. Besides, you can also install planks or wooden dowels around the cylindrical part. Thus, you will obtain various compartments and isolate storage that you can use either as a bookcase or to display your most beautiful decorative accessories. Then, it's up to you to choose whether or not to work with wood! Keeping the reel would be the perfect solution for anyone who loves vintage and rustic décor cool drawings.
However, for lovers of refined furniture, sanding is recommended. You can continue to personalize the table by applying paint or by drawing various patterns with a stencil, for example. Finally, know that by varying the color, you change the purpose of the furniture. The Scandinavian-style reel coffee table would be white, for example, unlike its seaside-style sister, which we advise you to repaint in blue. Here are two approaches that will assist you in visualizing our ideas.
The pallet coffee table – a classic recycling idea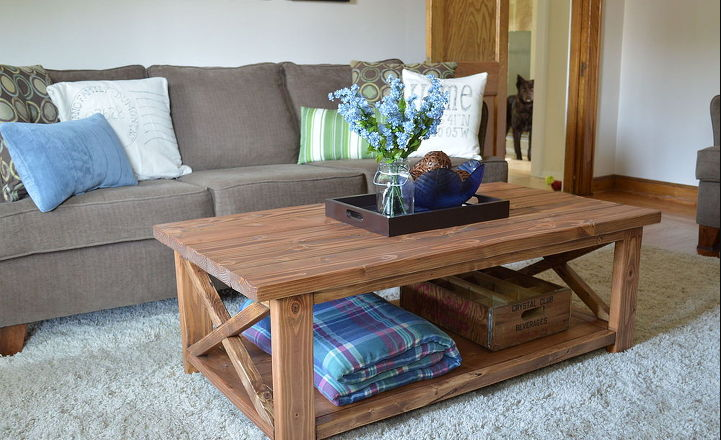 Pallets dominate the world of recycling, and it has been several years. While the reel is the perfect starting point for creating a round coffee table, the shape of the pallet doesn't make for a stunning rectangular coffee table. There again, you can skip the disassembly step and use the pallet as is. For more height, stack a few pallets. Arranging a glass top on it is a practical solution because the table will become much easier to clean. However, if you want, you could take the pallet apart, cut and rearrange the wooden planks to create a designer and 100% customized piece of furniture. Casters and various types of table legs to be assembled are also possible. It is a very creative way to use a wooden pallet.
Materials needed:
Wooden pallet
Sandpaper/electric sander
Print painting
Acrylic paint (the paint we recommend in the specific case)
Casters
Screwdriver drill
Wood screws
Varnish
The first person to make of education is to find a palette. As we have already said in many of our articles, apart from buying one, you can also get a recycled pallet for a low price. You have to visit a construction site, a warehouse, or the surroundings of a business. Then, you can proceed to the next step, which is sanding the surface of the pallet. We recommend that you do it outside to avoid having to clean up the dust afterward. To polish the wood properly, be sure to remove or drive in the nails deeply so that they do not catch! To make your job more natural, we advise that you use an electric sander! Continue until the polishing leaves the grain of the wood exposed.
Now you have to decide if you want to keep the raw look of the wood or give your furniture a more modern touch. In the first case, you can end up applying a coat of varnish or even wood stain. In the second case, we recommend that you first inspect the condition of the surface! Does it have any holes? In this case, consider filling them in and masking them with wood filler. Then, continue with a primer coat which will ensure that your paint adheres better after that. Let dry and pass sandpaper to remove minor irregularities.
A coffee table in a wooden crate – another charming recyclable material that is easy to work with
Another material that you can get quickly and even why not for free are wooden crates and crates. In addition to being recyclable, they are efficient because their natural shape allows the creation of storage integrated into the table. Here is a simple tutorial that you can do in the blink of an eye.
Materials needed:
Wooden crates
A square of plywood
Four castors to be mounted
Wood screws
Print paint and acrylic paint
Wood glue
Paintbrushes
Sandpaper
Drill-driver
Saw (if the plywood is not pre-cut)
Manufacturing:
Still, as in the pallet table, the one in wooden crates begins with the sanding of the boxes and plywood. Regarding the latter, to specify its dimensions, you have to place the boxes there before working them. Then, you can continue with the purpose of the printing paint and then the acrylic paint. We decided to repaint the crates and the plywood before assembly – you will see that it is much simpler.
Tags: Coffee table DIY projectspallet coffee table