The trend of different styles and patterns of lehenga choli is increasing day by day. You will come across many unique styles of lehenga these days. Every girl wishes to wear the most beautiful and stylish lehenga at weddings, festivals, and functions.
For Indian girls lehenga is the first choice when it comes to weddings. The outfit is now available in Indo-western style that gives a modern and classy look to the one who wears it. This lovely colors with zari work, patchwork, zardosi work, and other embroidery work make the lehenga look more wonderful and attractive.
The year is started and now you have to attend many wedding functions so here are some of the hottest and most trending lehengas of the year.
Mint Green Lehenga with Golden embroidery.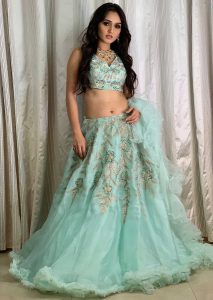 This is a very beautiful outfit with embroidery work at the waist and a plain bottom with ruffle lace. A sleeveless blouse is a perfect match with this skirt. The ruffle dupatta is the stunning pair with this lehenga. The color is very attractive and cool and suits every skin tone.
This modern lehenga will look amazing at parties and weddings. Pair limited accessories with your outfit to get a modern look. Wear a choker or a necklace to define your neck. You can wear bangles and rings with the outfit. Open hair will look awesome with this attire.
Stylish Grey Sequin lehenga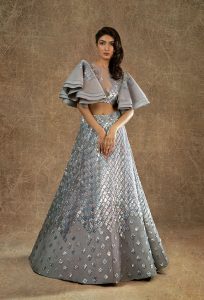 The most trending and famous color among all the women nowadays is grey. This stylish grey lehenga with amazing sleeves and pattern is just stunning. The lehenga is simple yet alluring, it is the best choice for a party or any other event.
You will look awesome if you wear it at a wedding. If you want to attend a friends wedding then this can be your best choice. The outfit itself is so stylish and unique that you dont need to add any accessories to it.
Just do bold eye makeup and apply lipstick, you are all set! You can make different hairstyles to match your outfit.
White Floral Lehenga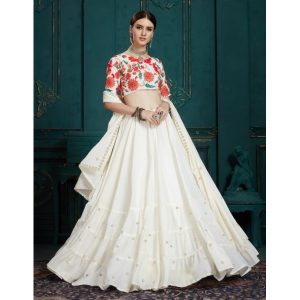 You cannot take your eyes off from this one. This is a simple yet so much adoring outfit. The color combination is just stunning. A plain white skirt with a full floral blouse is just amazingly gorgeous.
The bottom of the skirt with small golden rings is making the skirt and dupatta look more attractive. It is a perfect choice for a party or an event.
You can also wear it at a reception party. Big and bold earrings with a choker will look cool on this outfit. You can wear bangles or bracelets and also rings with the outfit.
Lehenga with Cape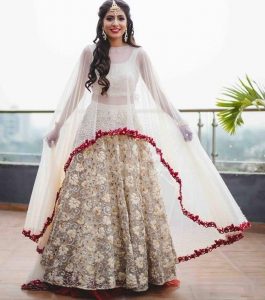 This stylish lehenga with a cape is very gorgeous. It is a great choice for the reception party. The full embroidered skirt and a net cape are giving the outfit a glorious look. The top is completing the overall look of the outfit.
If you are wishing for a modern and stylish look than this outfit can fulfill your dream. White is considered to be a royal color and the outfit is looking royal and stunning. The color combination is also perfect. This can be your perfect hottest trending choice.
Silver and Peach Lehenga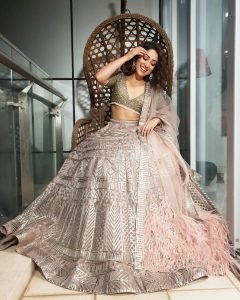 Here is another alluring silver lehenga with a peach feather dupatta. This full designer lehenga with a perfect shimmery blouse and stylish dupatta is an outfit that you cannot reject.
The blouse with two-fourth sleeves and a simple neck is a perfect match with the skirt. A heavy skirt and simple shiny blouse are making a terrific pair. This one is perfect for any type of occasion. It is a trending color and thus you are going to look just perfect in the attire.
Beautiful in White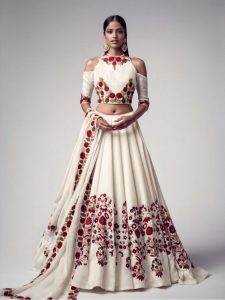 When we talk about modern lehenga then white cannot be ignored. Nowadays light colors are in very much trend and the most popular one is white and off-white. The best thing is that this color can be contrasted with any other color.
This cold shoulder lehenga choli is so stylish and unique that you will gather all the limelight at the party. Pair it with heels and bold earrings and flaunt yourself in this gorgeous one.
Some Glitters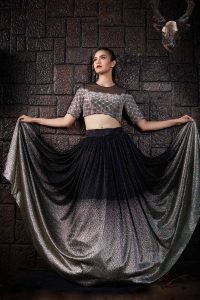 Want to glitter in the party? Then how can you leave this one? This black and silver outfit is just amazing. This extensively stylish outfit is the hottest lehenga choli among all other lehengas.
This blouse is looking gorgeous and the neck that is made of the net and it is the most attractive part of the blouse. Gather all the attention by wearing this amazing outfit. The color combination is undoubtedly the best one. Wear matching bold earrings to complete your stylish look.
Feather Lehenga
The most amazing and hottest one is this pink feather lehenga. It will be the most trending one this year. This new pattern will skip your heartbeat. The pattern is very stylish and is just perfect for a new-age bride.
Wear this at your reception and be the center of attraction of the party. No one can take their eyes off from this exclusive and unique outfit. The heavy stonework on the blouse and skirt is increasing the beauty of this outfit.
Some Blues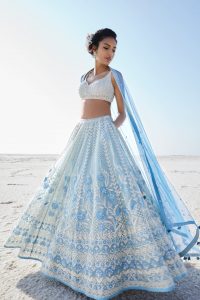 Isnt it so amazing? This sky blue lehenga is really very beautiful. The flower and motif work on the skirt is looking stunning. A net dupatta and sleeveless blouse are giving the outfit a super gorgeous look.
This can be your best choice for any pre-wedding or post-wedding functions. Accessorize well with this one, wear heavy earrings and a choker necklace. You can add rings and bangles with your attire.
Trail Lehenga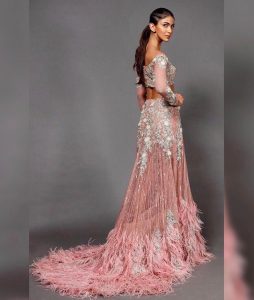 Trail lehengas are also very popular nowadays. This one will give you an amazing look at your reception. This fully embroidered attire is stunning. The full sleeves of the net are giving the blouse a complete and modern look.
The outfit is itself very heavy so you dont need to wear heavy and bold accessories with this one. Just do smokey eye makeup and make a perfect hairstyle to match with your outfit and you are ready.if you love lehenga choli want to try new lehenga for any function you can buy lehenga online usa. if you are from the USA or any other country you can buy online to save your time and money.
Tags: Lehenga Choli Trends