Best Thermal Leak Detector: Black and Decker TLD 100The TLD 100 thermal leak detector are made by the company, Black and Decker. As a manufacturer of various equipment, accessories, and power tools, Black and Decker have gained a strong reputation among consumers. In addition to their thermal leak detectors, the company also sells steam cleaners, drills, accessories and attachments such as batteries and drill bits.
The TLD 100 is one of Black & Decker's infrared thermometers, and before giving a final review of the product, it's important to evaluate its features, benefits, and how the thermometer stacks up against competitors.
Features of the TLD 100
The Black & Decker TLD 100
has features that make it easy to detect very subtle thermal leaks. For instance, it measures and detects temperature differences of 1, 5, or 10 degrees and has a sensitive infrared sensor that will alert you of any energy leaks that simply cannot be seen–within walls, molding, ceilings, or windows. Perhaps one great advantage of this thermal detector is its sizable LCD screen that makes it easy to read all measurements and data. The leak detector is sensitive enough to measure a temperature range that lies between -22 degrees Fahrenheit (-30 degrees Celsius) and 302 degrees Fahrenheit (150 degrees Celsius). Changing between Fahrenheit and Celsius is also fairly simple, as the detector has a switch located above the battery under the battery door. Lastly, it should be mentioned that the TLD 100 is lightweight, ergonomic and easy to use.
Benefits of the Black and Decker TLD 100
There are several benefits of the Black and Decker TLD 100, especially if those who use it are HVAC professionals. This thermal leak detector was specifically made to help professionals identify any cooling, heating, and general insulation issues. The TLD 100 is sensitive, offers a sizable temperature range, and for the price seems to offer great value. In addition, it should be mentioned that this piece of equipment fulfills the job of both an infrared thermometer and a leak detector. It can both measure the temperature of an object (without having to touch it or get near it), and also help one even measure the energy efficiency of something like a refrigerator. The Black and Decker TLD 100 seems like a good tool for maintenance and diagnostics. In fact, any individual who works in the business of home repairs or HVAC can benefit from this kind of thermometer. It is also easy to program the threshold settings for measuring the temperature differences between objects.
Overview
In general, the Black and Decker TLD 100 seems like a good thermal detector. If there is any potential drawback, it would be that Black and Decker makes no specific statements about how accurate the detector is when measuring the temperature of an object (often, infrared thermometers or detectors have a range of accuracy) and the company also does not give any mention as to the distance-spot ratio, or the distance one can stand away from the object when using the thermometer. While those two factors can be some drawbacks, the Black and Decker TLD 100 nonetheless seems like a solidly-built thermal leak detector. For individuals who need mostly an infrared thermometer, then it may be best to go with a series made by Kintrex, Fluke, or Raytek.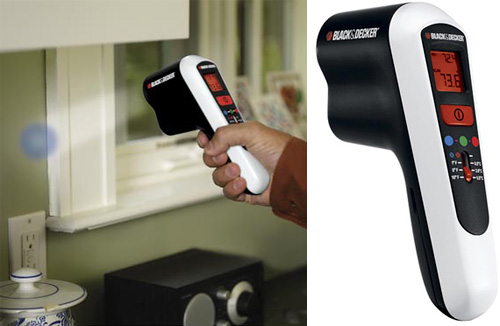 Real Reviews from Real Users
"I haven't had my Leak Detector very long, but I already used it on all my appliances and also found the south wall of my home has some major air leaks. Great for checking that pesky bottom drawer in the fridge that always freezes your vegetables, too. Finally got it set right. Will be checking the insulation in my attic and boxing as soon as it starts to get cold and windy. My son owns a remodeling business, and he has already asked me to borrow it a couple of times for different jobs. He likes it a lot. He found a hot spot in light fixture wiring thru the drywall. Lifesaver."

"The Black & Decker TLD 100 thermal leak detector does a good job of finding leaks where air is going out of the house as a temperature change.  It also identified a hot spot in the ceiling, where insulation was not properly installed, allowing hot air to escape through the ceiling.  I would recommend the TLD100 as a good choice for a low cost leak detector for your house or apartment."
Tags: Black and Decker TLD 100