Are you craving Mexican cuisine? Looking for a delicious yet easy-to-prepare Mexican food recipe? If yes, look no further than Fiesta Veggie Burrito. Fiesta Veggie Burrito is a famous Mexican and Tex-Mex cuisine that contains a lot of veggies and sauces wrapped in a soft tortilla. It is a Mexican-style wrap that can easily satisfy your taste buds. 
In this blog, we have shared an easy recipe for Fiesta Veggie Burrito and even mentioned its calorie count. Before your mouth starts watering, let's get into the details of this tempting Mexican dish.
Recipe For Fiesta Veggie Burrito
You don't need to be a professional chef to make Fiesta Veggie Burrito at home. Whether you are a home cook or a pro chef, anyone can make this dish effortlessly. All it requires is your time and the right ingredients to make a delicious Veggie Burrito.
Ingredients
Butter

Chopped veggies like green bell pepper and green onions 

Mashed spicy Chili beans

Flour tortillas  

Shredded Cheddar cheese

Chunky salsa

Sour cream
Recipe
Add some butter to a heated pan and wait till it melts.

Add green pepper and green onions. 

Cook the ingredients over medium flame until veggies get crisply tender.

Add Chili beans, stirring occasionally, and cook for 3-4 minutes.

Spread the mixture within 1 inch of the tortilla edge. 

Add cheese on top of the mixture and fold opposite sides of the tortilla.

Add salsa, sour cream, and sliced green onions on top of each wrap and serve hot. 
Taco Bell Fiesta Veggie Burrito
If you are someone who doesn't like cooking at all, then you can order Fiesta Veggie Burrito from Taco Bell. Taco Bell is a go-to destination for all food lovers. Whether you are vegetarian or non-vegetarian, the restaurant has a plethora of food options to cater to your food needs. It is one of the best restaurants to enjoy authentic Mexican dishes ranging from tacos to rolls, wraps, and burritos to name a few. You name it, they have got it.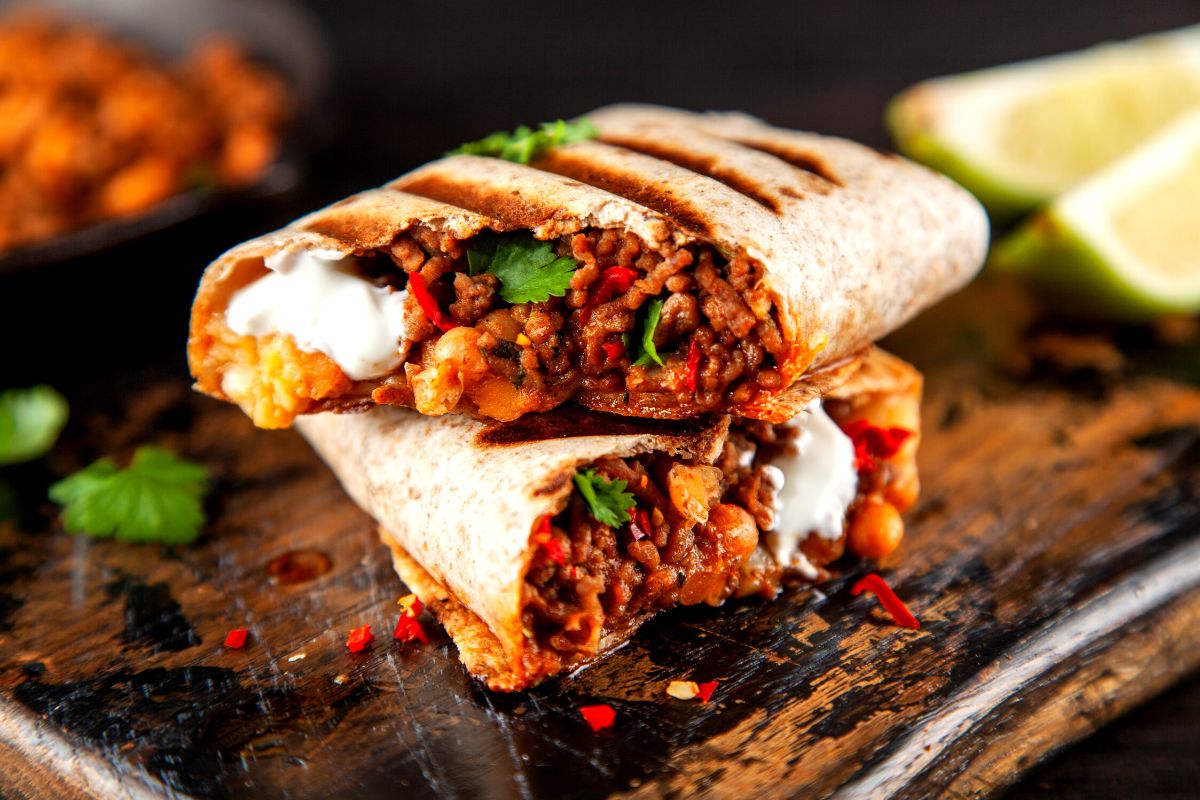 One of the best-selling and customer-favorite dishes at Taco bell is Fiesta Veggie Burrito. Taco Bell Fiesta Veggie Burrito is something that you cannot say no to. 
It is a tortilla loaded with veggies like black beans and roasted corn served with sour cream and cheese. You can order burritos online or visit the restaurant. Whether on a movie date at home or spending quality time with your loved ones, this Mexican dish is ideal for making any moment special and memorable. 
Be it lunch or dinner, you can enjoy this burrito anytime you want. 
Calories In Taco Bell Fiesta Veggie Burrito
Many fitness freaks are curious to know the nutritional value and calorie count of Taco Bell Fiesta Veggie Burrito. Well, one veggie burrito contains nearly 500 calories. It has almost 21g of fat, 13g of protein, and 65g of carbs. The burrito contains everything from protein to carbs and fat to provide optimum energy to food lovers. 
Many gym enthusiasts may find a 500-calorie count very high. But don't worry. Taco bell also serves a "Fresco style" burrito which has a calorie count of around 330. So you can enjoy Veggie Burrito without compromising your health and fitness goals.
Is Fiesta Veggie Burrito Healthy Option?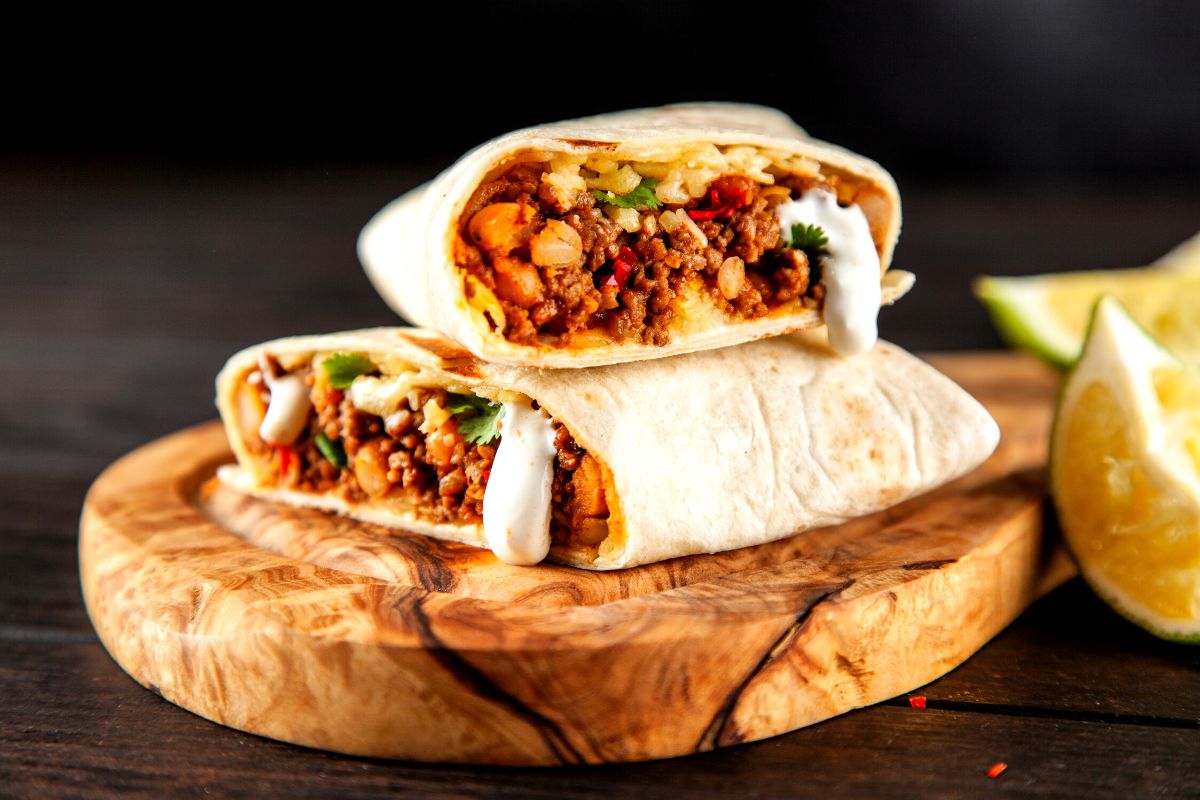 A veggie burrito can be a healthy option depending on the type of ingredients you are using to prepare it. For instance, if you are preparing it without any oil or butter and serving it without any sauce or cheese, it can be a healthy meal option. 
On the other hand, a veggie burrito made with a white flour tortilla topped with creamy sauce and cheese is rich in calories, making it a less healthy meal option.  
To prepare healthy and calorie-deficient veggie burritos, make sure to use a lot of veggies, avoid using sauces and cheese, and wrap the ingredients in a whole wheat or whole grain tortilla. 
Is the Fiesta Veggie Burrito Vegan?
The Fiesta Veggie Burrito is a great option for vegans and vegetarians looking for a delicious and affordable meal. It is also a good option for people who are looking for a gluten-free or low-carb meal. if you order it without the cheese, sour cream, and chipotle sauce. It is a delicious and filling burrito made with black beans, seasoned rice, guacamole, tomatoes, and Fiesta Strips (pieces of red tortilla chips)
Healthy Options On Taco Bell's Menu
If you are looking for a tasty yet healthy food item on Taco Bell's menu, then opt for Power Menu Bowl. It is one of the healthiest Mexican dishes on their menu. Loaded with an adequate amount of protein, the Power Menu Bowl includes the protein of your choices like grilled steak, seasoned ground beef, and shredded chicken. It also contains brown rice, guacamole, pico de gallo,  black beans, and reduced-fat sour cream. Lettuce and cheddar cheese are used for toppings. 
The bowl even contains 15g of fat and has a calorie count of 340. It offers a perfect balance of proteins, carbs, fats, and other nutrients, making you feel full and energetic the whole day.
That's all about the fiesta veggie burrito. For more information on food and recipes, follow our website.
Tags: caloriesfiesta veggie burritofiesta veggie burrito recipeIs Fiesta Veggie Burrito Healthy?taco bell fiesta veggie burrito